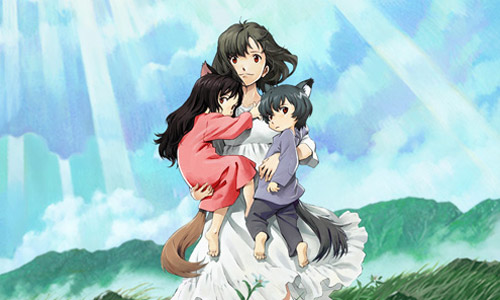 I feel like one of the weightiest statement I can make as an RTVF major is my list of favorite filmmakers, and Mamoru Hosoda sits very comfortably in my top three.
This Friday (February 7th) the RTVF department is having a showing of the Mamoru Hosada film Wolf Children, his latest installment in a line of mind blowing-ly awesome movies. Wolf Children is a movie about family, love, and self-discovery; its story is full of heart and sincerity.
"Experience the latest masterpiece from the internationally-acclaimed, award-winning director of Summer Wars. Hana was a student before she was a mother. She was bright and pretty, and her future held endless possibilities. Then she met a man, who turned out to be a wolf, and together they built a family.Hana loved her mate fiercely, but fate took him from her, leaving her alone with two unusual kids she didn't know how to raise. Frightened of being discovered, Hana and her wolf children fled to the countryside to build a new life. Raising her little wild things was an adventure. It left Hana bruised, scratched, exhausted, and joyously overwhelmed as her pups grew stronger and wandered further every day. This is a mother's journey. Teach your children to chase their dreams – and smile through the tears as they disappear into the world in search of who they will become. Hana wasn't always a mother, but it was always what she was meant to be."
I could go on about how great this movie is for hours, but I think it's better to let it speak for itself.
The English version was produced right here in DFW by FUNimation Entertainment, and features one of UNT's own graduates, Lara Woodhull, as the voice of young Yuki.
Tickets for the event can be found here:
http://www.eventbrite.com/e/wolf-children-event-hosted-by-the-unt-department-of-radio-tv-and-film-tickets-9829663789